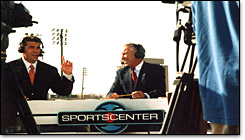 What does hybrid uplink mean?
ESPN needed a full, multi-camera production truck and an uplink truck to air this remote spot from Notre Dame and the University of Iowa. Normallly, ESPN would bring in a 40-foot (B) style production truck and a separate satellite uplink truck. But one hybrid STS truck did the job at almost half the cost. For more information, see truck features, or call 1-800-838-1472.
Video Production
Whether you're capturing a fast-breaking news story in downtown Detroit or producing a corporate video in suburban Minneapolis, Satellite Technology Systems can deliver a mobile video production facility when and where you need it. Even more important than our leading edge mobile equipment is the expertise of our experienced video engineers.
Satellite Technology Systems' video production capabilities include a full range of single and multiple-camera video production services. Before you begin your next video project, we suggest you contact us at 800-838-1472. (Outside the United States, call +1 815-482-0224).